Naidu indulging in quid pro quo: YSRC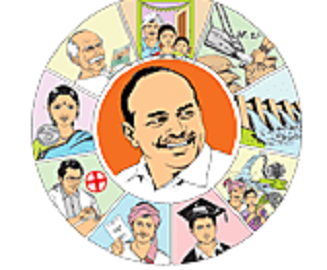 YSR Congress party
today accused TDP president Chandrababu Naidu of indulging in quid-pro-quo
transactions with people during his padayatra by showering a slew of promises
in return for electing his party to power in the next elections.
Addressing a media meet
at the party headquarters in Hyderabad, senior party leader Konatala Rama
Krishna said there is no credibility for Naidu among the people as he is not
sincere in his promises.
"Naidu says one thing
when he is in power and another thing when he is out of power," charged
Ramakrishna, adding that Naidu has been making unbelievable promises in order
to get votes and not out of the love for the people.
Ramakrishna said Naidu
had revoked the Rs.2 Kg rice scheme and Rs.50 bill per 1HP motor scheme for
farmers introduced by the NTR regime and also failed to implement the assurance
on prohibition.
Lambasting Naidu for
making a slew of promises to farmers during his padayatra, Rama Krishna said
Naidu never showed love toward farmers when he was in power. "He is assuring
farmers 9-hour free power, cancellation of farmers' loans and fee reimbursement
to all. All these schemes were introduced by YSR," Rama 
Krishna said, adding
that Naidu never gave importance to the agriculture during his 9 nine year 8
months rule.
Naidu never tried to
reschedule the farmers' loans, Ramakrishna said, adding that he didn't even
care to negotiate with the Centre when YSR sought a reschedule of the loans.  "How can people repose confidence in his
assurances when he acted quite opposite during his rule?" he asked.
Questioning the mindset
of Naidu, Ramakrishna charged him with criticizing the YSR's free power scheme
to farmers on one hand and assuring the people that he will introduce the free
power scheme on the other.
"You are making a
promise to people you will introduce all the schemes implemented by YSR,' Ramakrishna
told Naidu. "In such a case, accept the greatness of the welfare schemes of
YSR."
Party Political Affairs
Committee member Somayajulu said Naidu never worked in the interest of the
farmers during his rule.
(Updated on Oct 15,2012)