Fight for spl. Status

Nellore, Aug 4: Reiterating that special
status is the only way for development and employment generation, Leader of
Opposition YS Jagan Mohan Reddy has said that the fight for special status will
continue and the youth should come forward to question the political leaders
who go back on their poll promises.


Addressing a large gathering of youth at
the Yuva Bheri programme here on Thursday he said : ' There are
efforts to water down the demand for special status by vested interests but our
fight should continue relentlessly. Democracy has been shattered with
Parliament witnessing double speak as the BJP-TDP combine that had sought 10
year special status while in opposition and had also included it in the
election manifesto and after coming to power started searching ways to evade
the issue.
 Chandrababu Niadu who is facing many
corruption charges including the cash for vote scam watered it down by telling
that Special status is not a cure-all medicine to all problems and on many
occasions spoke against it and did not broach the subject when the occasion
arose.

Emboldened by his behavior the Centre
has told in the parliament categorically that it is not possible to accord
special status to Andhra Pradesh and brought in 14th Finance
Commission into the picture. It was categorically stated by a member of the
Commission that there was no recommendation to scrap status to states and in a
written reply our member YV Subba Reddy the Centre said that there was no idea
to withdraw the status to northeast states.
 This double talk is highly condemnable
and special status is our right and we have to fight it out till we achieve the
goal, he said.
 Though the state had announced that
there are 1.42 lakh jobs the APPSC did not announce its schedule. Though exams
were held for teacher posts, appointments were not made.

Chandrababu Naidu has promised to
provide job to every family or unemployment stipend but he went back on the
promise. Unless such politicians are questioned there would be no
accountability in politics, he said.

The special status has been promised by
the previous government in the Parliament in lieu of Hyderabad while division
of the state and the BJP and TDP had sought for 10 years and after coming to
power the assurance was being watered down.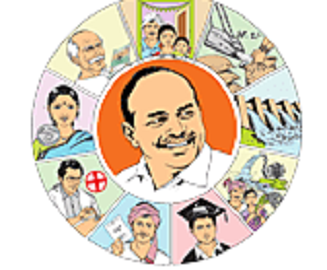 Only states with special status would
get central funds in the form of grants and there would be numerous benefits
including the exemption on taxes and others besides generating employment to
lakhs of youth.
 The youth should come forward to fight
it out as it is for their future that we are fighting, he said adding that
Chandrababu Naidu could promise moon if left unquestioned.

The fight will continue till the goal is
achieved, he said. Earlier, students have expressed their support to the fight
for special status as part of the Yuva Bheri.