Fight For SCS Will Continue

Hyderabad, Sept 10
: Reiterating the demand for the resignation of Chandrababu Naidu for watering down the special category status (SCS), Leader of Opposition YS Jagan Mohan Reddy has said that the fight for special status will continue till the goal is achieved.
'Arun Jiatley categorically stating the that special status cannot be given and Chandrababu Naidu welcoming the statement and TDP continuing in the Union Cabinet is nothing short of cheating the five crore people of the state to take cover from the cash for vote case,' he told media at the Assembly premises while sitting on dharna at Gandhi statue here on Saturday.
Welcoming Arun Jaitley's statement is a black day in the history of the state and Chandrababu Naidu has no moral right to continue in the office and owes an apology to the people and TDP should pull out from NDA coalition to upkeep the Telugu pride. 'As there was no scope for expressing the views of the Opposition in the Assembly, I have  given a blow by blow reply of the falsehood behind Arun Jaitley's statement and how it is of no consequence to the state and Chief Minister still sticking to the stand and pressing that he would give a statement in the House is nothing short of bankruptcy and shows that there is a secret pact between the Centre and Chandrababu Naidu after the ACB court has directed for a reinvestigation into the cash for vote case,' he said.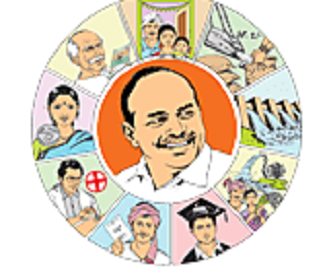 'Chandrababu Naidu who has been caught red-handed with audio visual evidence has turned into puppet in the hands of Centre and has mortgaged the state interests at Delhi to save his skin, the YSRCP President said. Immediately after the ACB court directive TDP minister Sujana Choudhary meets BJP national president, union ministers an flies to State capital to meet the governor and tells media that he has come to discuss special status. In what way the Governor is concerned with the special status, he wondered.
The package announced by Jaitley is not exclusively for Andhra Pradesh but a common one which other states, including Telangana also had got. Chandrababu Naidu welcoming the statement and his MPs continuing in the union cabinet is nothing but watering down the special category status. We will relentlessly fight till the goal is achieved whatever be the timeline, he said and appealed all sections to join hands in the fight for the state's future.