Virginia Telugus pay tributes to YSR

Herndon,(US),
Sept 15, 2012: Dr YSR fans in the Virginia of the US paid rich tributes to the
late leader on Saturday, Sept 15, 2012 at Herndon on the occasion of his third Vardhanti.

The YSR
fans, especially from the Washington D.C.
Metro (Maryland, Virginia, Washington DC), have congregated at the Frying Pan
Farm Park with Bhuma Nagi Reddy, Ex MP, YSRCP Central Governing Council Member,
attending as the chief guest and spoke highly of the services rendered by the
late legendary leader during his tenure as the Chief Minister.
YSR Congress leaders M. Gnanendra
Reddy, Ex MP, Chittoor and A V Subba Reddy, party in-charge for Nandyal,
attended as honourary guests at the memorial service.
The speakers eulogized YSR as the
one and only leader who strongly believed that the human life is a boon
provided by the Almighty to share one's blessings with others, while serving
less privileged human beings.
"Don't count the years you want to
live. Ask yourself how much you have done for society at large with whatever
opportunities the Almighty has provided you", are Dr. YSR's words of advice for
all. The late leader always believed in the words of Mahatma Gandhi who said,
"You must be the change you want to see in the world."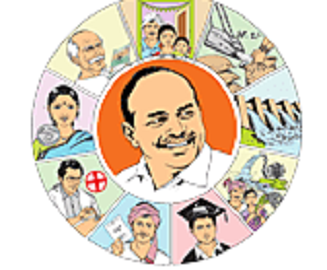 Speaking on the occasion, the
participants recollected the once BBC dispatch which said, "Dr. YS Rajasekhara
Reddy was an Indian politician who could boast a formidable mass following.
YSR, as he was popularly known, brought back social democratic politics and
schemes to Andhra Pradesh after five years of controversial economic reforms by
his predecessor. He had a reputation for social welfare schemes, which were
often derided by his critics as populist".