Relentless Struggle Of YSRCP Against People's Problems

Prakasam (Giddaluru):
 In-charge of Giddaluru constituency, Illuri Venkateswara Reddy (IV Reddy) stated that YSRCP always stood forward in fight for alleviation of problems of people. He held Gadapagadapaku YSR Congress programme at Mittameedipalli, Errapalli, Madanapalli and Gonepalli villages of Komarolu mandal. Speaking on this occasion, he specified that YSRCP would fight relentlessly to make sure all the promises made by Chandrababu at the time of elections were realised.
Babu has come and pension is gone
Lakshmamma, a villager fromm Madavapalli village revealed to IV Reddy that she use to get Rs.200 pension during YSR's tenure but after Chandrababu had come into power she stopped receiving pension, in spite of satisfying all the requirements of eligibility.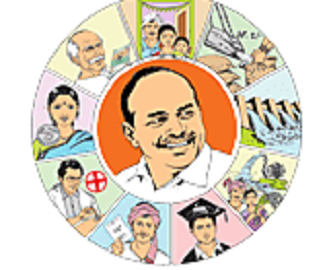 Visakhapatnam: People at every doorstep complained about Babu's deception. Every person is owing to not vote for Chandrababu again. Gadapagadapaku YSR Congress, the programme taken up by YSRCP to check how far Chandrababu's poll promises had been implemented, was conducted at Anakapalli by the party's district president Gudiwada Amarnath. Participating in this event were Janaki Ramaraju, Babu, Srinivas, Suribabu, Ramesh, Jagan, Trinath and others.