Sharmila breaks Mamata's Padayatra record

Mahabubnagar, Nov 27,
2012: YSR Congress Party senior leader Dr. M. V. Mysura Reddy said that
Sharmila's name would go into history as she broke the record of West Bengal
Chief Minister Mamata Banerjee's Padayatra.

Mysura Reddy, who
accompanied Sharmila throughout her Maro Praja Prasthanam Padayatra in
Mahabubnagar district on Monday, told reporters that Mamata Banerjee had walked
for 250 km through her Padayatra in the past. "Now, that record was broken by Sharmila.
History will remember Sharmila as the first woman who has already completed a
distance of 500 km in her Padayatra," he said.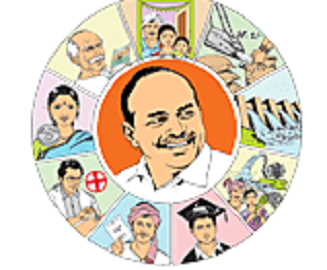 Mysura said people are
following Sharmila through her Padayatra as they have been attracted towards
the welfare programmes implemented by YSR.
Meanwhile, at the end
of 40th day on Monday, Sharmila completed a distance of 539.10 km in
her Maro Praja Prasthanam which she began on Oct 18 from Idupulapaya in YSR
district.