Jagan firm on providing jobs to youth: Sharmila

        A student seen in discussion with Smt. Y.S. Sharmila at G.Mamidada
Ramachandrapuram, June 12, 2013: YSR Congress Party chief Sri Y.S. Jagan Mohan Reddy is very much
determined to ensure employment to all educated people as per their
qualifications, Smt. Y.S. Sharmila told a huge gathering of students at Gollala
Mamidada in EG district. 
Addressing the IIIT
students during the course of her Maro Praja Prasthanam Padayatra on Tuesday,
Smt. Sharmila said Dr. YSR introduced the fee reimbursement scheme and IIIT
centers with a large heart to provide higher educational opportunities to the
rural students on par with the urban students as he was a visionary.  
"The present government
has already diluted the fee reimbursement scheme and is now trying to take life
out of the IIITs to fail them," she told the students. "But, the fee
reimbursement scheme will make a comeback in its full form and the IIITs will
get back their charm once Sri Jagan Mohan Reddy becomes the CM."  
She said TDP chief
Chandrababu Naidu has been promising unemployment allowance if voted to power
in the next elections. "However, there is no need for you to get unemployment
allowance once the YSR Congress Party comes to power under the leadership of
Sri Jagan Mohan Reddy.  He will take steps
to provide employment to all educated people depending on their
qualifications," she said.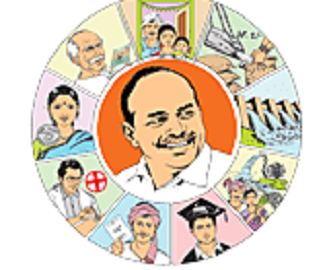 A view of the IIIT students who interacted with Smt. Y.S. Sharmila
When students referred
to Chandrababu Naidu's recent comments that student associations were unsocial,
she decried his comments and said: "He may feel student associations are
unsocial but YSR Congress Party respects students and encourage student
associations."  
Students also
complained that B.Ed candidates are given Secondary Grade Teacher jobs in Tamil
Nadu but the AP government denied the teacher jobs here to them. Smt. Sharmila
reacted saying they should question the CM on the issue whenever they bump into
him.