Book Culprits, Hike Ex-Gratia To Injured Dalits: YS Jagan

Amalapuram, Aug 12:
Condemning the attack on dalits, YSR Congress President, YS Jagan has demanded an ex-gratia of Rs 8.2 lakh which is the upper limit to each of the victim and severe punishment to those responsible for the attack.
'Had Chandrababu Naidu who had come up to Rajahmundry, visited the place of offence it would have been a morale booster to the affected dalits and a civilized society cannot tolerate such attacks,' he told reporters at the Government Hospital after consoling the dalits who were beaten up on charges of skinning a dead cow at Sudapalem of Uppalaguptham mandal which happens to be the native place of state home minister.
The dalits told the Leader of Opposition that they were told by one Arvind Rao that his cow was dead and asked them to take away and bury it. They took the dead cow to the burial ground and peeled its skin, which was their profession, and were about to bury when a group of people had come and dragged them to the main road.
They were tied to a tree and were severely beaten up with slippers and did not stop when the family members and police had come. Those who were beaten up include a teenager who had just passed 10th  standard and the incident is heart-rending.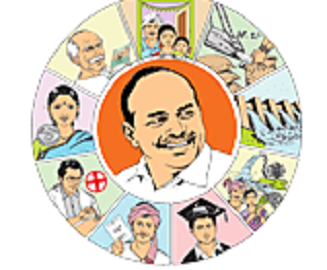 'It was a brutal act which a civil society cannot accept. The miscreants did not bother to enquire about the facts nor did they take the version of the dalits but had indiscriminately beaten them up. Later they were taken to the police station and there too the dalit version was not taken. Only after the dalit unions came into picture did they talked to Arvind Rao who gave away the cow for burial.
We strongly condemn the act and demand that the miscreants should be brought to book and punished in the strictest possible manner and the ex-gratia of Rs 1 lakh which is the lowest limit, is not sufficient. The norms specify that the ex-gratia should be Rs 8. 20 lakhs which should be paid immediately,' he said.
We also express protest against the manner in Chandrababu Naidu had treated this issue by skipping a visit which would have expedited the 
investigation, he said.