YSRCP's Continuous Struggle For People

Babu's deception will not work anymore
Kurnool (Kalluru): YSRCP MLA Gowru Charitha Reddy mentioned that Chandrababu was successful in deceiving people with his fake promises at the time of elections, but that deception would not work anymore. She participated in Gadapagadapaku YSR Congress programme held at the 32nd ward of the city. She learnt people's problems and called for them to unite and question Babu about the fake promises he had made.
Continuous struggle for the sake of people
Srisailam (Bandi Atmakuru): YSRCP had been fighting on behalf of people for their welfare since its foundation, mentioned the party's in-charge of Srisailam constituency, Budda Seshareddy. As part of Gadaagadapaku YSR Congress programme, he toured in SC colony and explained to the residents about Chandrababu's deception. Then he gathered responses to Praja ballot, the 100-point questionnaire about people's satisfaction to Babu's rule.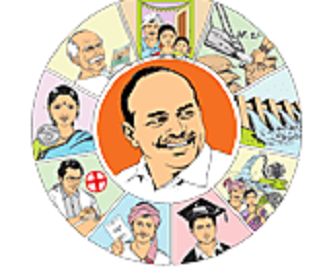 Waiver is hardly enough for interest
Tuggali (Patthikonda): The amount of money sanctioned by the TDP Government for waiver of loans was hardly enough for the interest on loans, remarked Ch.Narayana Reddy, the in-charge of Patthikonda constituency. As part of Gadapagadapaku YSR Congress programme, he toured in Girigetla village of the mandal. Later, he spoke to comment that Babu had deceived people with his impossible promises.