Welfare Being Neglected and State Being Robbed

Chandrababu is a betrayer
Srikakulam (Kotthuru): YSRCP's district president Reddy Santhi called Chandrababu a betrayer of people. She toured in Makavaram of Kotthuru mandal as part of Gadapagadaaku YSR Congress programme. People reported to her that houses were not being sanctioned to qualified people. She handed over the 100-point questionnaire, Praja Ballot, to people and gathered their responses to the satisfaction survey. She called for bidding goodbye to the deceptive rule of TDP.
Not one house has been sanctioned
Srikakulam (Gara): People from Boravanipeta panchayat complained that public welfare schemes were not being implemented properly by TDP Government. As YSRCP's state general secretary Dharmana Prasad Rao visited them as part of Gadapagadapaku YSR Congress programme, they shared their agony with him. The programme was held in Tallavalasa and Boravanipeta. Speaking on this occasion, Dharmana criticised that no development had happened in the past two years.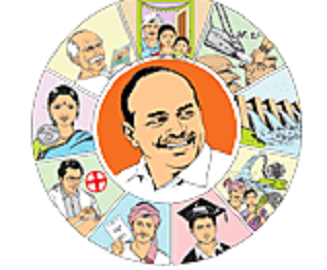 Let us say goodbye to this tyrannical rule
Srikakulam (Rajam): MLA Kambala Jogulu called for bidding goodbye to the tyrannical and atrocious rule of Chandrababu in the state. He held Gadapagadapaku YSR Congress programme at Guravam village of Rajam mandal. Speaking on this occasion, the MLA criticised that CM Chandrababu had totally neglected public welfare and had robbed crores of rupees in the name of capital city construction. He questioned how Chandrababu welcomed special package announced by the centre, ignoring the special category status.