People's Blessings Are YSRCP's Strength

Ours is a relentless fight
Jaggampeta: YSRCP flags are flying throughout the state. The leaders and the activists of the party are touring throughout the state with support and affection earned from people. They are going to every doorstep and explaining about the Government's corrupt and deceptive ways. At Surampalem village of Gandapalle mandal in Jaggampeta constituency of East Godavari district, Gadapagadapaku YSR Congress programme was held. People revealed to the leaders that their pensions were being cancelled and ration was not being granted citing problem with fingerprints. The leaders of YSRCP assured the people to be brave as their problems would vanish once YS Jagan became the CM of AP.
Time being passed with luxuries and parties
Yalamanchili: Convener of YSRCP of yalamanchili constituency, Pragada Nageswara Rao, commented that Chandrababu was able to see nothing but Amaravathi. As part of Gadapagadapaku YSR Congress programme, he toured in Ramarayudupalem village of Yalamanchili mandal. He criticised Babu's foreign trips and parties while people of the state were suffering. He opined that the leaders and the activists of YSRCP wee working for bringing fair rule in the state. He mentioned that Gadapagadapaku YSR Congress programme filled courage and confidence in them.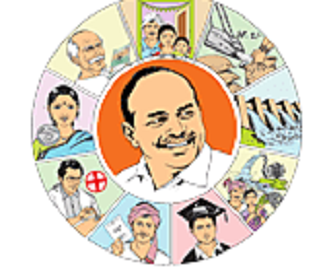 People are condemning Babu's rule
Yarragondapalem: Leaders of YSRCP of Yarragondapalem remarked that people were wishing for YS Jagan's rule. gadapagadapaku YSR Congress programme was held at Sunkesula village of Peddaraveedu mandal in Yarragondapalem constituency in Prakasam district. The leaders slammed the Government for not being bothered about people's feelings. They mentioned that people were disgusted by TDP's rule. They distributed copies of Praja Ballot and collected responses from people.