Everyone Was Cheated By TDP's False Promises

We appealed twenty times
Ananthapuram (Dharmavaram): We applied for pension at least 20 times in the past two years. But there was no use. Chandrababu's Government is not caring about poor people like us", exclaimed Ramanjinamma, Sujatha, Ramudu, Giridhar and others from the 36th ward of the city. During the Gadapagadapaku YSR Congress programme held by the constituency's coordinator  and former MLA Kethireddy Venkatrami Reddy, the people shared their agony. Speaking on this occasion, he mentioned that Chandrababu had deceived the youth, the aged, the handicapped, the women and the farmers with his false promises.
Not one promise has been realised
Ananthapuram (Vidapanakallu): DWCRA women, farmers and people of Vidapanakallu complained to MLA of Uravakonda, Y.Visweswar Reddy, during the Gadapagadapaku YSR Congress programme. The programme was conducted in police station colony, Sunkalamma colony, Kurubageri and Gouramma Devi colony. Praja Ballot was handed over to the people and Chandrababu, who had not realised any of the promises made to people, received zero marks in the ballot.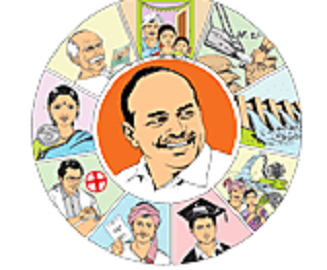 No provision of drinking water
East Godavari (Danavayipeta): People from the 30th division revealed their problems due to lack of drinking water. As YSRCP's city coordinator Routhu Surya Prakash Rao toured in the area as part of Gadapagadapaku YSR Congress programme, people narrated to him their problems. He remarked that Babu had cheated people with false promises. Responses were collected for Praja Ballot.