Betrayal With Fake Promises

Government indifferent to farmers
Aluru (Aspari): Aluru MLA Gummanuru Jayaram complained that the Government could not come to the rescue of the farmers even after three consecutive years of drought. He toured in Puppaladoddi, Kairuppala, Kalavari, Yatakallu, Togalugallu, Ainakallu, Chokkanahalli villages as part of Gadapagadapaku YSR Congress programme and inquired about people's problems. He criticised that TDP Government was showing negligence in paying compensation to farmers.
Babu should be taught a lesson
Nandyala (Noonepalle): YSRCP's constituency in-charge Malikireddy Rajagopal Reddy opined that people should teach deceptive Chandrababu a lesson. As part of Gadapagadapaku YSR Congress programme held at Saleemnagar, he criticised that not one of the poll promises had been realised in 2.5 years of Babu's rule. He remarked that the unemployed who had voted for Babu in hope for getting jobs had to face dead end. He expressed concern about agriculture that had become burdensome resulting from the Government not sanctioning fertilisers and tools on input subsidy in time.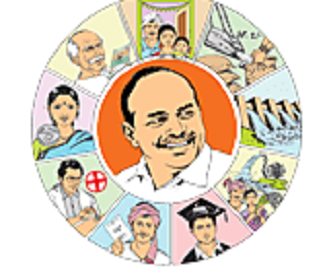 People's problems were ignored
Mummidivaram: TDP Government that had promised many things at the time of elections and betrayed people later by forgetting all about them, complained YSRCP's constituency coordinator Pithani Balakrishna. He conducted Gadapagadapaku YSR Congress programme at Bandarupalem, Pacchamatlavaripalem, Satyanarayanapuram areas in Kotthalanka panchayat. On this occasion, he distributed copies of Praja Ballot and gathered responses to it from people.
Nobody to our rescue
Jaggampet: TDP Government had miserably failed in solving people's problems, remarked YSRCP's constituency coordinator Muthyala Srinivas. As part of Gadapagadapaku YSR Congress programme, he toured in Pentapalli village and learnt about people's problems. Speaking on this occasion, he commented that the state had reached a devastated state in 2.5 years. He questioned Babu what had happened to the promise of waiver of agricultural and DWCRA loans.