Decimate divisive forces, says Jagan

Peddapanjani
(Chittoor dist), December 29: Castigating the Congress and TDP leadership for
brazenly going ahead with the division process, YS Jagan Mohan Reddy has said
the united voice of the region should reflect in the form of a clear mandate in
the ensuing elections and decimate the divisive forces which would enable us to
have a say in selecting the Prime Minister candidate who supports our cause.
Addressing
a public meeting as part of his Samaikaya Sankharavam Yatra here on Sunday, the
Kadapa MP has said," Sonia Gandhi has been going all out to divide the State
and N Chandrababu Naidu has been helping her in all respects while Kiran Kumar
Reddy is deceiving people with his ambiguous words and deeds.
They
are not concerned about the feelings of the people and the hardships they would
be undergoing if the State is divided but have a singular objective of gaining
a few votes and seats irrespective of the permanent damage to the farmers,
students and the State as a whole.
Their
politics have no credibility and the system is getting rotten by the irrational
decisions they have been taking. We are fighting for a united state and if we
raise our voice in unison and translate it into a mandate which will shake the
foundation of Delhi, we will be in a position to opt for a leader who favours
an integrated State," he said.
During
his daylong tour of Palamaneru constituency, he unveiled the statue of YSR and
expressed his gratitude to the people who still adore YSR as they were
immensely benefitted by the welfare schemes.
"That
was a different era. Now politicians are not keeping their promises and are
very shallow in thought and action as well. The political system is decaying
and value based ideology should be ushered in as the Congress President, Chief
Minister and Leader of Opposition are dividing the State for the sake of votes
an seats.
When
the natives, Chandrababu Naidu and Kiran Kumar Reddy come to this district,
farmers should ask them as to where will they get water from and students
should question them as to where should they go for jobs if the State is
divided.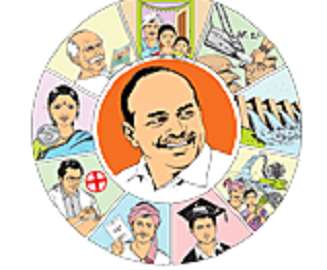 Leaving
Hyderabad in ten years is easier said than done. Chandrababu Naidu who has the
audacity to say that the youth can search jobs in Chennai and Karnataka should
be ashamed for his lack of concern as we will be treated as second hand
citizens if we go to other States. All Telugu speaking people should have a
single state and they should be proud of having one, he said.
Chandrababu
Naidu has been playing foul from the beginning. He met the President Pranab
Mukherjee but did not utter the word Samaikyandhra. When APNGO leaders have
approached him and asked to give a letter in support of a united state, he has
mercilessly rejected it. He said that he cannot withdraw the letter he had
given in favour of the division of the State.
Farmers
of this district have told me that bore wells have to be sunk very deep up to
100 feet to get water and if the State is divided and another State comes in
between, we will not get water for Handri Neeva, Galeru Nagari and other
projects.  When the state is united itself, we are not getting water
unless the needs of upper riparian states of Maharashtra and Karnataka are
fulfilled.
After
the division there will be no drinking water from Kuppam to Srikakulam, he
said.
The
general elections are just four months away and we should win the maximum seats
to have a say in selecting the Prime Minister who will side us in our fight for
a united State, he said.
As
part of unfinished Odarpu Yatra, which is concurrently running with Samaikya Sankharavam
Yatra in the district, YS Jagan Mohan Reddy has visited Batthulapuram and
consoled the kin of Kalpana, who committed suicide unable to bear the tragic
death of YSR.
He
consoled the husband and children of Kalpana.  He was accorded a warm welcome in the village.