YS Jagan dubs Chadrababu Naidu as a copycat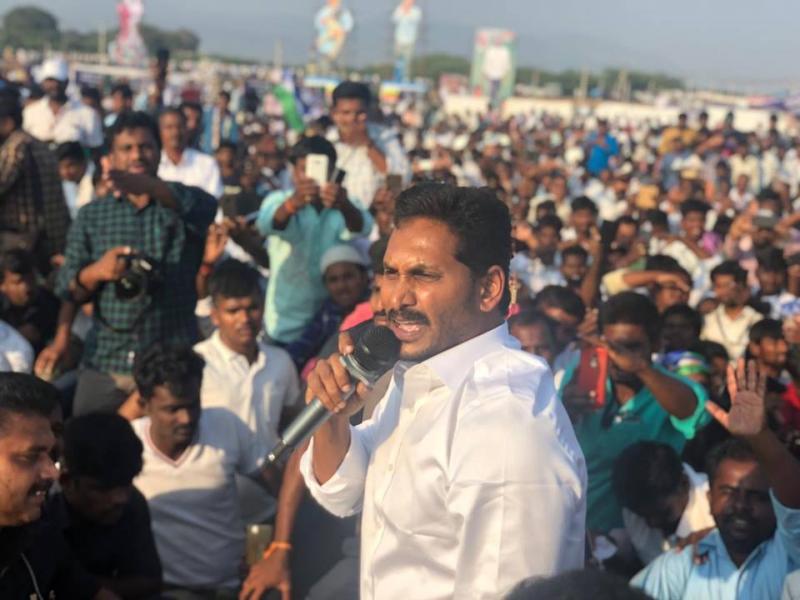 Tirupati: Sounding the election bugle with a firm acknowledgement to the resolute support of the masses, the leader of the opposition in Andhra Pradesh Legislative Assembly and YSR Congress President YS Jagan Mohan Reddy dubbed Chadrababu Naidu as a copycat and a flip-flop politician likening him to touring talkies that changes the posters frequently and appealed to the people to reject the ruling dispensation.
Addressing a massive Samara Sankharavam public meeting here he told the party cadre to get ready for the 2019 battle for ballot and said, 'I am committed for the social, economic and political uplift of all sections and promised to hike the old-age pensions to Rs 3,000 per month. Chandrababu's theatrics will flop in the public theatre as he has been scripting film after film with neither substance nor morals as he has gone back on all his poll promises.
We need not believe TDP, Congress, BJP or Jana Sena but go ahead on our own and win all the 25 MP seats to have a pivotal role to play in national politics and support that party which assures SCS and stands by our aspirations.
Chandrababu Naidu has been a copycat who has been trying to cover-up his past mistakes of not fulfilling his 600-odd poll promises and in a knee-jerk reaction, has come in a tearing hurry to announce scheme after scheme taking a leaf from the Navaratnas unmindful of the fact that he has forgotten his past promises for the past four-and-a-half years and has now been doling out promises despite knowing that he lost credibility and people are not in a position to believe him.
Rewinding the history of the state and the fate of copycats, he told the gathering how a copycat chief minister was summarily rejected by people in earlier days. When NTR (as Leader of Opposition) had announced to implement Rs 2-a- kg rice scheme, the then chief minister Kotla Vijayabhaskar Reddy started giving rice at Rs 1.90 a-kg just six months before the elections. People remember what happened to the copycat chief minister who was trounced decisively and NTR secured a thumping majority.
The same is going to happen in the coming days as the copycat Chandrababu Naidu is singing tunes of welfare, something which does not suit to his style of functioning as he has never bothered about welfare schemes or welfare of people but was always busy in amassing wealth, nepotism, favouring contractors and resorting to horse-trading of MLAs. The rampant corruption in the state from the leadership to the booth-level workers was blatantly exhibited all these days, he said.