YSR Continues To Live In People's Hearts

A leader who considered people's problems as his
Seven years since his swearing in as CM for the second time
Implementation of welfare schemes in an unexpected manner
The leader who has gained a permanent place in people's hearts
It is almost 7 years since the great leader has physically left us. He has gained fame as a farmer-friendly and poor class-friendly person. Not only did he offer assistance to the poor and the backward classes but also he aspired for every woman to become a millionaire. He swore in as the CM of AP for the second time on the 20th of May in 2009.
Moved by the people's problems
Having initiated Pada Yatra to inquire the wellbeing of general public and to know the problems of farmers facing drought, YSR was moved by the sad stories of debt-provocated suicides. This made him announce free electricity for farmers before 2004 elections and signed on the same file as soon as he swore in. That first signature remained historical. He implemented waiver of loans for farmers, relieving them from the huge burden of getting on with agriculture while being indebted.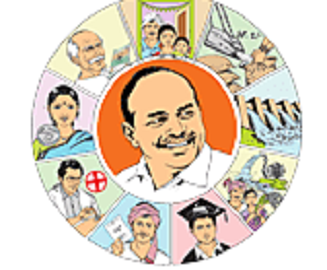 lakhs of acres brought into cultivation
YSR has made the state properous by bringing lakhs of acres of dried up lands in the state under cultivation by initiating projects under the name 'Jala Yagnam'. He could provide irrigation water throughout the year to lakhs of acres in the state of AP through projects like Polavarm and Chevella-Pranahita. This pulled out lakhs of farmers out of misery and gave them strength to live. The farmers started to worship him as God.
Corporate treatment to the poor through Aarogya Shri
While many poor people were suffering from ailmets small and big to which they could not buy cure and giving up hope to live, he introduced Aarogya Shri scheme. This scheme extended the life span of many poor people all over the state. Over offering treatment free of cost, he also gave them charges to go back home. The poor people worshipped him for giving life to them and their families.
104..108 services
YSR arranged for health vehicles to reach the houses of the poor, terminally ill patients and pregnant women and arranged for health services right at their houses in all villages. Medicines were distributed for free. The services of 108 cannot be described in words. A call to 108 would arrange for service even for the slightest of accidents and health problems.
Houses for the poor
YSR provided shelter to the poor. Through schemes like Indiramma illu and Rajiv Swagruha, he arranged for houses to many people. He used to caution the officials from time to time to ensure implementation of these schemes with commitment. To make sure the poor were educated, he implemented fees reimbursement scheme, thus helping many poor people to get into high profile professions. He established IIITs and universities for every district to ensure good education for the poor class as well as the middle class.
Every woman has to be a millionaire
In order to fulfill his dream of seeing every woman as a millionaire, he offered loans for meagre interest. He sanctioned lakhs of crores of funds to DWCRA and encouraged self-employment. He gave assurance for old women through Abhaya Hasta. The welfare schemes implemented by YSR for the wellbeing of general public would have no end.
It is not an exaggeration to say that he still lives in the hearts of the Telugu-speaking people.