Zero Development And Maximum Publicity

Rule off the tracks
Visakhapatnam (Yalamanchili): YSRCP's district president Gudiwada Amarnath commented that people were suffering a lot under Chandrababu's rule. Along with Boddeda Prasad, he held Gadapagadapaku YSR Congress programme in Ummalada village of Yalamanchili mandal. He opined that there would be peace in the state if YS Jagan became the CM. He remarked that Chandrababu was neglecting administration, being too busy with publicity. He condemned ignoring all the promises made at the time of elections. Boddeda Prasad spoke to state that farmers and agriculture sector had flourished under YSR's rule. Leaders and activists of the party participated in the programme.
YS Jagan has to become the CM
Rambilli: Yalamanchili constituency's convener Pragada Nageswara Rao mentioned that people expressed hope to have YSR's golden rule back through YS Jagan. Holding Gadapagadapaku YSR Congress programme at Kotthapatnam, Cheevara, Yatha Kotthapatnam villages of Rambilli mandal, he explained Chandrababu's deceptive ways to the people and YSRCP leaders and activists took part in the programme.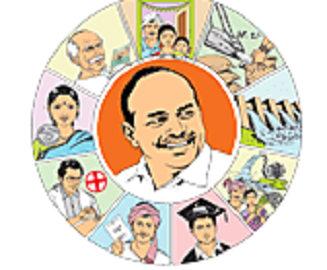 Voting for Chandrababu was a mistake
Akkayyapalem: People of Akkayyapalem area mentioned that they should not have voted for Chandrababu and they had been carried away by the fake promises he made. Particularly women of the 32nd ward expressed regret for having voted for Babu and stated that they would not do the same mistake again. The constituency's coordinator Tainala Vijay Kumar and ward president KV Baba held gadapagadapaku YSR Congres programme in Musabu vari veedhi. they collected responses for how far the promises made by TDP at the time of elections had been kept. Waiver of DWCRA loans, sanction of loans for low rates of interest, houses for all, jobs for every household or stipend for the unemployed, Rs.10,000 for pregnant women, Rs.25,000 for new born baby girls and many more promises had been left unkept, stated the people.
Rajanna's rule should be back
Visakhapatnam: YSR had introduced many welfare schemes for the backward castes, people mentioned and wished for his rule to come back. When Gadapagadapaku YSR Congress programme was held in Tummadapalem, Siddharth Nagar and Bhavani Gardens areas of the 41st ward of Visakhapatnam West constituency by its convener Malla Vijay Prasad, he inquired about the people's well-being. Women of the areas revealed their problems to him. They slammed the Government for not implementing welfare schemes properly.