YSR's Golden Rule Will Be Back Through YS Jagan

Deception is Babu's personality
People complained to YSRCP in-charge of Pattikonda constituency, Ch.Narayana Reddy, during Gadapagadapaku YSR Congress programme that they had been deceived after believing that their agricultural loans and DWCRA loans would be waived. The programme was held at wards 7,15,16 and 17 of Pattikonda town. He inquired about people's problems and they stated that they had enjoyed welfare schemes while under YSR's tenure unlike under Babu's rule, where only TDP followers were being benefited. Commenting that deception was Babu's personality, he suggested that people be aware of Chandrababu who might come again to them for votes with his fake deceptive promises.
People furious towards Babu's rule
Srisailam constituency's in-charge Budda Seshareddy, toured in Somayajulapalle village of Bandi Atmakuru mandal as part of Gadapagadapaku YSR Congress programme. He inquired about people's problems and distributed copies of Praja Ballot, seeking answers to the satisfaction survey. People, on this occasion, slammed Chandrababu's rule. They owed to chase away TDP leaders if they came again to their doorstep for votes.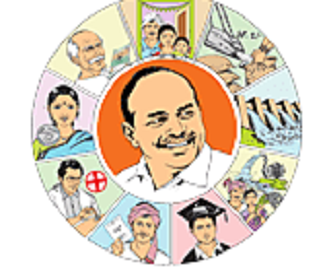 Let us bid goodbye to Babu
Convener of Narsipatnam constituency, Petla Umasankar Ganesh, toured in Singanapudi village of Mandavalli mandal. People complained to him about their DWCRA loans had not been waived and they had not received any welfare schemes including unemployment stipend. Speaking on this occasion, Ganesh slammed Chandrababu's rule that neglected the implementation of welfare schemes. He called for bidding goodbye to Babu's administration, reiterating that YS Jagan had to become the CM for YSR's golden rule to be back.