YSRCP Is On People's Side

Narasannapeta: 
Former MLA and YSRCP BC cell's state president Dharmana Krishna Dasu stated that YSRCP was working with the agenda of alleviation of people's problems and fighting against the Government in AP in that direction. He held Gadapagadapaku YSR Congress programme at Netaji sterrt, state bank street and Nayudu veedhi in the local panchayat. As part of the programme, he went from house to house to explain about TDP's corruption. He slammed Chandrababu for his deceitful way of administration.
Mudinepalli Rural: Villagers of Peyyeru from Mudinepalli mandal expressed their agony by saying, "We are being troubled with incompetent rule. None of the welfare schemes are reaching us. There is no water to drink. Due to lack of irrigation water, Sarva cultivation is getting difficult. How can we carry on our livelihood in these situations? We have never seen such an incompetent Government in the past." Gadapagadapaku YSR Congress programme was held in the presence of YSRCP constituency coordinator Doolam Nageswara Rao. He spoke on this occasion to slam the Government's failure that resulted in lack of irrigation water to the crop fields.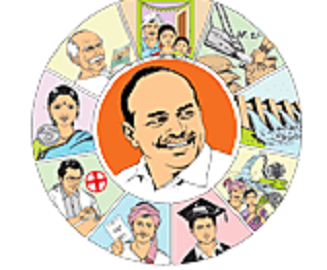 Visakhapatnam East: "Babu came to power through false promises and destroyed the whole state. We shall not make the mistake of trusting him again. We will teach him a lesson on the next chance", exclaimed the residents of Sriramnagar of the 2nd ward. Gadapagadapaku YSR Congress programme that is intended to make people aware of the Government's atrocities happened in Visakhapatnam East constituency held by the constituency's convener Vamsi Krishna Srinivas. The programme was also held in Narsipatnam municipality and the 11th ward of Peddaboddepalli by Petla Uma Sankar, the constituency coordinator of Narsipatnam.