We've Had Enough Of The Deception

Deception through impossible promises
East Godavari (Mandapeta): Gadapagadapaku YSR Congress programme was held at Edida of Mandapeta mandal by the party's constituency coordinator Vegulla Pattabhi Ramaiah Chowdary. He slammed the Government for making impossible promises to people and deceiving them. He questioned Babu about not implementing welfare schemes. He was accompanied in the programme by the party's state secretary of farmers' wing, Radhakrishna (Rajubabu) and party leader Kovvuri Trinath Reddy.
No sign of DWCRA loans
Kakinada Town (Boat Club): YSRCP leaders complained about the Government's dysfunctionality in sanitary matters. Clearing of drains was not happening from time to time, they commented. People complained to them that DWCRA loans were not being given. YSRCP city coordinator Mutta Sasidhar held Gadapagadapaku YSR Congress programme at the 27th division's Budampeta. Speaking on this occasion, he asked the people to score Chandrababu's rule and people expressed unanimous disgust towards the rule.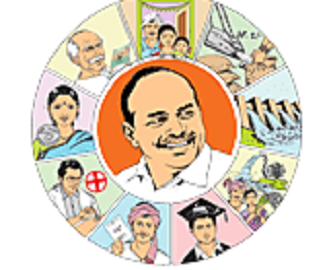 Betrayal of trust
Anakapalli: People of Gavarapalem of the 18th ward of Anakapalli mentioned that TDP had made numerous promises at the time of elections but had forgotten all about them later. As part of Gadapagadapaku YSR Congress programme, YSRCP district president Gudiwada Amarnath toured in the area and inquired about people's problems. Then he gave them copies of Praja Ballot, the 100-point questionnaire about satisfaction towards Chandrababu's rule. Amarnath was accompanied by Srinivas, Apparao, Ramachander, Nageswar, Trinath, Siva, Ramakrishna, Nukaraju and others.
Rainfall brings trouble along
Mummidivaram: Due to rainfall and irregular drainage system, roads were flooding causing inconvenience, complained people of Lacchipalem village. Gadapagadapaku YSR Congress was held by YSRCP's constituency coordinator Pithani Balakrishna. Speaking on this occasion, he commented that Chandrababu's rule had pushed people into more troubles. He added that their problems would be solved if YS Jagan became the CM.