Tremendous Response At Every Doorstep

Gadapagadapaku YSR
Congress programme taken up by YSRCP is receiving tremendous response
throughout the state. YSRCP cadre is exposing Chandrababu's deception after
making impossible promises at every doorstep.
In-charge of
Banaganapalli constituency of Kurnool district, Katasani Ramireddy, toured in
Pedda Kopperla, Govindinne villages of Kovelakuntla mandal as part of the
programme. On the other hand, Patthikonda constituency's in-charge Ch. Narayana
Reddy visited every doorstep of Jonnagiri village and explained Chandrababu's
deception. Speaking on this occasion, he commented that it had been proven
again that precipitation would not like Chandrababu's tenure. He reminded how
flourished Rayalaseema had been during YSR's tenure. He opined that his golden
rule could again be obtained if YS Jagan became the CM.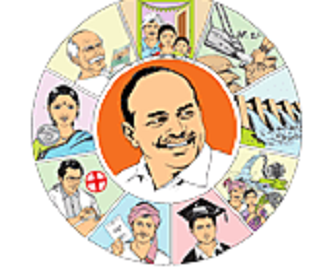 Nellore Rural MLA
Kotamreddy Sridhar Reddy and party leader Anam Vijay Kumar Reddy went from one
doorstep to another at Bhuja Bhuja Nellore as part of Gadapagadapaku YSR
Congress programme. Sattar, the corprator of the 33rd division,
Hazrat, the in-charge of the 34th division participated in the
programme. They handed over brochures of Praja Ballot at every house and
collected answers from people for the questionnaire. People gave absolutely
zero marks to Chandrababu's rule.