Telugu Self-Respect Mortgaged At Delhi

Water should be provided till the end of the season
Allagadda (Dornipadu): YSRCP's constituency in-charge, Ramalinga Reddy, conducted Gadapagadapaku YSR Congress programme at Bhagyanagaram village and farmers appealed to him to see that KC Canal was provided water until rice crop came to hands. They also demanded for provision of basic infrastructure, pension, NTR houses and bathrooms. Speaking on this occasion, Ramalinga Reddy mentioned that Chandrababu had mortgaged self-respect of people of AP at Delhi sue to Cash for Vote case.
Government's negligence is condemnable
Nandyala: YSRCP's constituency in-charge of Nandyala, Malikireddy Rajagopal Reddy condemned the negligence shown by the Government towards employees. He expressed solidarity to the one-day strike staged by postal department employees in demand for sanction of bonus and allowances. He spoke to the leaders of the association regarding their problems. He expressed concern about Chandrababu's incompetence leading to people's suffering. He called for bidding goodbye to TDP rule soon.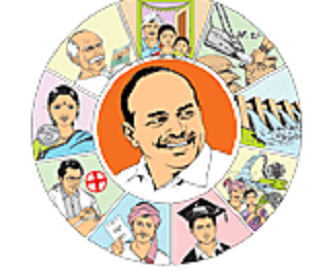 The Government indifferent to public welfare
Nandikotkuru (Pamulapadu): MLA Aijayya criticised the ruling party for ignoring public welfare with craze for the capital city. He held Gadapagadapaku YSR Congress programme at Vempenta village of the mandal. On this occasion, he acclaimed Dr. YS Rajasekhar Reddy for introducing schemes in favour of the poor. He also slammed Chandrababu for making impossible promises at the time of elections.