Strong Resistance In People Towards Chandrababu's Rule

Prakasam:
Gadapagadapaku YSR Congress was held successfully in Dharmavaram of Marripudi mandal in Kodapi constituency. Varikuti Ashok Babu and other leaders and activists participated in the programme. They went from one household to another exposing Chandrababu's deception. They gave praja ballot handouts to people and found resistance in people towards the Government everywhere they went.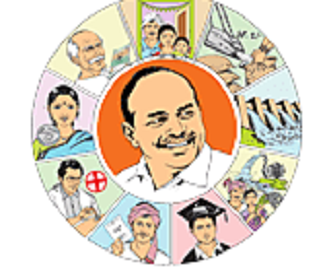 Kurnool: YSRCP leaders and activists are going from one doorstep to another exposing TDP's deception to people. Gadapagadapaku YSR Congress programme was held by constituency in-charge Ramalinga Reddy in Allagadda, constituency in-charge Jaganmohan Reddy in Emmiganeru and constituency in-charge Ch.Narayana Reddy in Patthikonda. They are asking people about the benefit they had received from chandrababu's manifesto promises and everywhere they are facing "No" as an answer for the Praja ballot framed on the matter. People at every household are declaring that they would teach a lesson to Chandrababu and TDP in the next elections.