Severe Resistance In People Towards TDP Government

In the Gadapagadapaku YSR Congress programme being conducted throughout the state, people are revealing their problems to the YSRCP cadre appearing at their doorstep. Constituency coordinator of P. Gannavaram of East Godavari district, Kondeti Chitti Babu, held the programme at Appanapalli village of Mamidikuduru mandal. Speaking on this occasion, he slammed Babu for making false promises and deceiving people.
People are warmly receiving Gadapagadapaku YSR Congress programme. In K.Murvakonda, Veerapuram, Nehrunagar and Pagidyala cillages of Nandikotkuru constituency in Kurnool district, MLA Aijayya toured as part of the programme. Speaking on this occasion, he condemned Chandrababu's betrayal to the people in the form of false promises.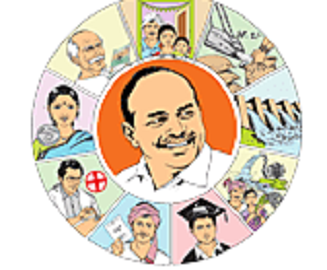 YSRCP leaders and activists are explaining Chandrababu's deception and corruption to the people at every doorstep. Constituency coordinator of Patthikonda constituency, Ch.Narayana Reddy, held Gadapagadapaku YSR Congress. He remarked that TDP leaders worked with the aim of filling pockets through corruption. He mentioned that Chandrababu had been sacrificing people's interests for his selfish intentions.