People's Money Being Swallowed

Babu's rule is deceptive
Nellore: YSRCP MP Mekapati Rajamohan Reddy stated that AP CM Chandrababu's rule was deceptive. As part of Gadapagdapaku YSR Congress programme, he toured in Nellore and explained to people about Chandrababu's deception. Slamming Chandrababu's Government for not doing anything for public welfare, he gathered the score given by people to Chandrababu through the satisfaction survey, Praja Ballot.
Government indifferent to people's problems
Kavali: Bridge at Mungamuru village of Bogolu mandal had been blown away by floods. Transport by highway had come to a halt. Ruling party leaders and MLAs had examined the status of the bridge and announced sanction of Rs.1 crore for its reconstruction. No work had been done even after 2.5 years of the promise and not a rupee had been sanctioned, complained the villagers to Kavali MLA, Ramireddy Pratap Kumar Reddy. Uncovering the Government's failure, the MLA conducted Gadapagadapaku YSR Congress programme at Mungamuru. Speaking on this occasion, he criticised the Government for working with the aim of swallowing public money. He expressed concern about the lack of development activities in the villages. He slammed TDP for making impossible promises and deceiving people.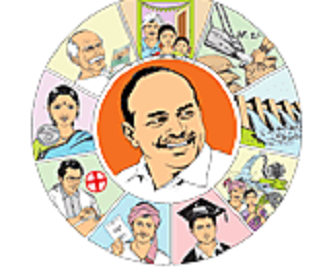 Welfare schemes out of reach for the eligible
Visakhapatnam (Marripalem): The welfare schemes run by the Government were staying out of reach of the eligible, complained villagers of Marripalem. They exclaimed that the list of eligible candidates had only the names of those people favoured by the followers of the ruling party MLAs.Even the applications of the eligible candidates were not being reviewed, they reported. The people complained to YSRCP's constituency coordinator Tainala Vijay Kumar that surveys on the reorganisation and sanction of houses had happened only for namesake, when he conducted Gadapagadapaku YSR Congress programme at old ITI junction of the 41st ward. On this occasion, he explained Chandrababu's corruption to people.