People's Fury Towards Babu's Government

Nandikotkuru
: TDP Government had made impossible promises but failed to implement them, complained MLA Aijayya. As he conducted Gadapagadapaku YSR Congress programme at Banakacherla, Banumukkala villages, people revealed to him that their ration and pension were not being properly sanctioned and that sanction of new houses was out of question. Aijayya called for the people to teach deceptive Chandrababu a lesson.
Kurnool: YSRCP's coordinator of Kurnool constituency, Hafeez Khan demanded that the Government should give attention to the problems of gold merchants. He held Gadapagadapaku YSR Congress programme at local Venkatachalapathi Sharaf bazaar and gave away copies of Praja Ballot to the businessmen. YSRCP's city president P.G.Narasimhulu Yadav explained to them about the intention of the satisfaction survey. The gold merchants on this occasion, explained their problems due to central excise imposition to Hafeez Khan.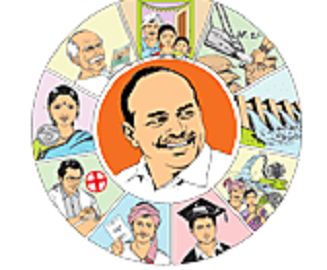 Patthikonda: Women of Allugundu village complained that CM Chandrababu had deceived them with impossible promises like loan waiver. During Gadapagadapaku YSR Congress programme conducted by constituency in-charge Cherukulapadu Narayana Reddy in their village, they revealed their problems and criticised the TDP Government for its deception.