People Suffer Due To Dormant Rule

Warm welcome
Kurnool (Allagadda): Gadapagadapaku YSR Congress programme prestigiously taken up by YSRCP is being well-received all over the state. People are affectionately welcoming the leaders who have come to listen to their problems. The programme was held at S.Lingamdinne village of Allagadda constituency by in-charge Ramalinga Reddy.
Farmers suffer due to capital city
Srisailam (Bandi Atmakuru): CM Chandrababu was doing injustice to farmers under the mask of capital city construction, complained YSRCP constituency in-charge Budda Seshareddy. As part of Gadapagadapaku YSR Congress programme, he toured in Lingapuram village and explained Chandrababu's deception at every doorstep. Later, he distributed copies of Praja Ballot and collected responses to it from people.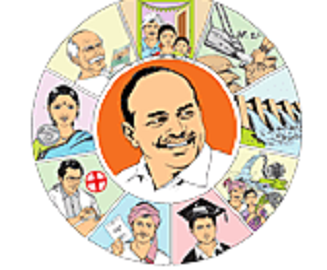 Let us put an end to Babu's rule
Nandyala (Noonepalle): YSRCP's in-charge of Nandyala, Malikireddy Rajagopal Reddy, called for the  people top put an end to Chandrababu's tyrannical and corrupt rule. Holding Gadapagadapaku YSR Congress programme in the mandal's Mullanpet, Islampeta and the city's 19th ward, he uncovered TDP's deception and collected responses fr Praja Ballot.