People Curse Babu

We should not have voted for Babu
While their villages were suffering with problems, TDP leaders were evading the scene, complained villagers. They expressed regret for voting for Babu. As part of Gadapagadapaku YSR Congress programme, in-charges Katasani Ramireddy and Narayana Reddy toured in their respective constituencies, Banaganapalle and Patthikonda. They spoke on this occasion and slammed Chandrababu's deceptive rule.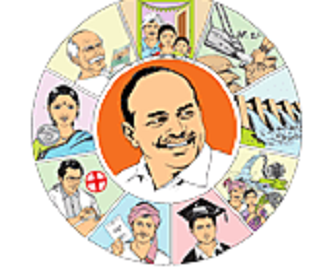 Not one scheme has been implemented
Narapureddygunta (Srisailam): Villagers of Narapureddkunta and Narayanapuram of Bandi Atmakuru mandal exclaimed that none of the promises made at the time of elections had been realised after TDP came to power. In-charge of Srisailam constituency, Seshareddy, visited people at their houses as part of Gadapagadapaku YSR Congress programme. People then narrated to him their problems. Seshareddy spoke on this occasion to assure that their problems woul;d be solved if YS Jagan was made the CM of the state.
Babu's rule has become a curse
Adoni: CM Chandrababu's rule had become to be a curse to the people of the state and all classes of people had grown to be discontent with his rule, remarked MLA Sai Prasad Reddy. He toured in Nagavadanahalli village as part of Gadapagadapaku YSR Congress programme. He handed over copies of Praja Ballot and collected responses from people.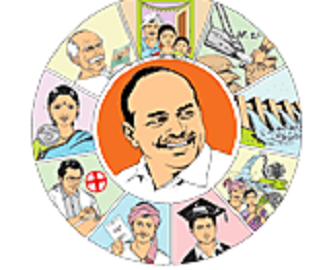 Government indifferent to people's problems
Kurnool: YSRCP coordinator of Kurnool constituency, Hafeez Khan, criticised that the state Government was not being bothered about people's problems. He toured in Sriram Nagar, Dodlaveedhi areas of the 23rd ward as part of Gadapagadapaku YSR Congress programme and explained Chandrababu's deception to people.
Flood of corruption flows in TDP rule
Mantralayam: People from Peekalabetta, Bapuladoddi and Hulikanvi villages cmplained that Chandrababu had deceived them through fake promises and cursed him with agony. They mentioned how their pension had been unjustly cut down. YSRCP's mandal president Rammohan Reddy held Gadapagadapaku YSR Congress programme in these villages while MLA Balanagireddy attended as chief guest.