No Development To Be Seen Anywhere

Government's ignorance to villages
Kaikaluru (Kondangi): Villagers of Kondangi of Kalidindi mandal complained that the leaders and the officials spoke big things about their streets being laid with CC roads and development happening in their villages, but had done nothing. As part of Gadapagadapaku YSR Congress programme, coordinator of Kaikaluru constituency, Doolam Nageswara Rao, toured in Kondangi and spoke on this occasion to condemn Chandrababu's deceptive rule achieved through fake promises. He slammed the Government for neglecting people and villages.
Negligence is what is there
Kurnool (Allagadda): Allagadda constituency's in-charge of YSRCP, Dr.Ramalimga Reddy, exclaimed that Chandrababu's Government showed negligence at every step. He toured in Padakandla as part of Gadapagadapaku YSR Congress programme. He commented that the Government was not implementing even a single welfare scheme that was beneficial for people. He gave away copies of Praja Ballot to people for gathering their opinions on Chandrababu's rule and all of them slammed Babu's deceptive rule.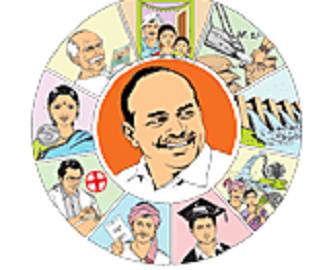 The Government's failure explained to people
Kuppam: Gadapagadapaku YSR Congress programme was conducted in Ganginechipalli village of Kuppam mandal in Chittoor district. Constituency's in-charge Chandramouli led the event followed by the leaders and the activists of YSRCP. They went to every house and explained YSRCP's activities to people, while uncovering the Government's failure. A huge number of people responded to the programme by participating in it and sharing their problems with the leaders who had come to their doorstep.