Let Us Bid Goodbye To Deceptive Babu

Gadapagadapaku YSR Congress programme is
happening successfully in East Godavari district. Coordinatr of Gannavaram
constituency, Kondeti Chittibabu and other leaders held the programme at Vakkalanka
village of Ambajipeta mandal.
Convener of Jaggampeta constituency, Muthyala
Srinivas conducted the programme at Subbayammapeta cillage of Gandepalli
mandal. People, on this occasion, revealed their problems to the YSRCP leaders.
They expressed their concern about Chandrababu's impossible promises and
deception. The leaders assured the people that their difficulties would be
alleviated soon as the next Government would be formed by YS Jagan.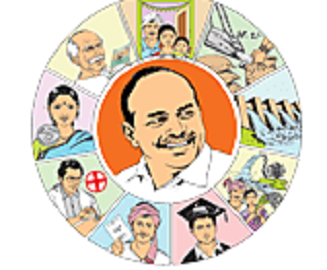 Convener of
Yalamanchili constituency of Visakhapatnam, Nageswara Rao toured in
Gollalapalem village. He went from one doorstep to another learning people's
problems. Speaking on this occasion, he expressed fury towards TDP rule. He
also cautioned that Chandrababu, the deceiver of people, would soon learn a
lesson in near future.