Lack Of Basic Infrastructure

We are facing many problems
East Godavari (Mandapeta): As part of Gadapagadapaku YSR Congress programme, coordinator of Mandapet constituency, Vegulla Pattabhi Ramaiah Chowdary, toured in certain villages of Rayavaram mandal. The party's state secretary of farmers' wing, Reddy Radhakrishna, also participated and knew the problems of people like  Lack of roads, drainage system and other infrastructure facilities. Pattabhi Ramaiah spoke on this occasion to assure that the problems in the village would be alleviated after two years when YSRCP formed the Government under the leadership of YS Jagan. Leaders and activists of YSRCP took part in the programme. 
Partiality in implementation of schemes
Visakhapatnam (Yalamanchili): People of Pulaparthi village complained about not having proper roads and drainage system. Gadapagadapaku YSR Congress programme was conducted by YSRCP's coordinator of Yalamanchili, Pragada Nageswara Rao, in the village. As the villagers complained about the partiality being exhibited in the implementation of schemes, Pragada spoke to assure them that their problems would be solved if YSRCP came to power. Leaders and activists of the party took part in the programme.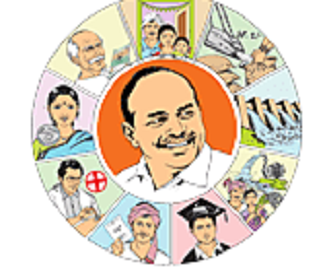 Corrupt rule
Nellore (Sullurupet): Sullurupet MLA Sanjeevaiah commented that the state was becoming a corrupt kingdom due to the misdeeds of Chandrababu and other TDP leaders. He conducted Gadapagadapaku YSR Congress programme in ST colony and exposed Chandrababu's deception to the people. He discussed local problems with people and distributed handouts of Praja Ballot to collect responses from people to the survey.