Ingorance Of Promises While In Amaravathi Chanting

A cobweb of problems
Giddaluru: Residents of Komarolu mandal's Thaticharla village exclaimed in agony that there was nobody to bother about their persistent problems like lack of drinking water and shelter to live under and bad quality of roads. They stated that their pleas to officials had gone in vain. As part of Gadapagadapaku YSR Congress programme, the party's in-charge IV Reddy toured in the village and learnt the problems of the  people. Later, he mentioned that during YSR's tenure, he got houses built for the poor but in Chandrababu's tenure not one person could be sanctioned a house.
Not one house has been built
Kondepi (Tanguturu): People from BC colony of Tanguturu stated that they had been waiting in vain for realisation of promises like construction of houses since 2.5 years. As part of Gadapagadapaku YSR Congress programme, YSRCP in-charge Varikuti Ashok Babu toured in the area and spoke on the occasion to criticise the Government's failure and negligence in making welfare schemes reach people.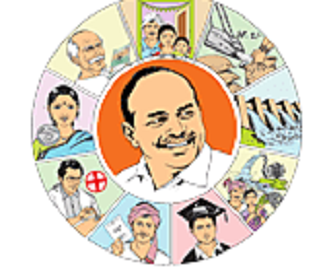 Chandrababu has deceived mercilessly
Madanapalle: People of Madanapalle complained that Chandrababu had not built even a single house for the poor or had sanctioned minimum welfare needs like pension and ration in the past 2.5 years of rule. He had not even offered a single job, being to busy in chanting Amaravathi's name, they said in agony to MLA Desai Tippareddy. As part of Gadapagadapaku YSR Congress programme, he visited Gandhipuram, PNT colony and other areas. He slammed the Government for failing in providing basic needs like street lights and roads. People condemned the Government at every doorstep. They assured that YSRCP was sure to form the Government next and filed hope in the people.
Leaders Balakrishna Reddy, Ambedkar Chandrasekhar, Mohan, Krishna Gopal Nayak, Siva Sankar, Narayana, Kesi Narsimhulu, Bandapalli Venkataramana, Tulasi Ramana and others participated in the programme.