Foreign Trips At The Cost Of People's Welfare

YSRCP - People's party
Cheerala: YSRCP is fighting on behalf of people, mentioned the party's leaders of Cheerala constituency. They held Gadapagadapaku YSR Congress programme in Vetapalem mandal's Anumallipeta. They mentioned how people were suffering under Chandrababu's rule and were wishing for YS Jagan's rule. They stated that the Government was wasting public money on pushkarams and foreign trips. YSRCP leaders also complained that Chandrababu had forgotten to take care of people and serve them with welfare schemes.
People will not forgive Chandrababu
Kanigiri: YSRCP leaders mentioned that people were observing Chandrababu's deception and would teach him a lesson soon. As part of Gadapagadapaku YSR Congress programme, they toured in SC colony of RK Palli in CS Puram mandal and distributed copies of Praja Ballot. They remarked that Chandrababu would be good as an advertising director but not as a leader of people.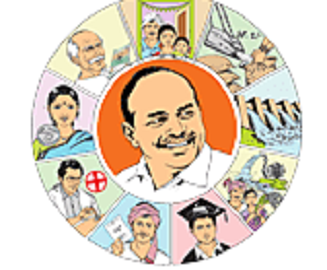 YSR, the people's leader
Narsannapeta: Narsannapeta constituency's leader Dharmana Krishna Das held Gadapagadapaku YSR Congress programme at Challavanipeta village of Jalumuru mandal and spoke on this occasion to acclaim Dr. YS Rajasekhar Reddy as the Godly leader who gave true rule to people. He inaugurated YSRCP's mandal office in Challavanipeta. People explained to him how they had been deceived by Chandrababu's false promises. Calling Babu inefficient to be the CM of the state, he slammed Babu's spending time with foreign trips. Jalumuru mandal's ZPTC, MPP, MPTC, YSRCP leaders and activists participated in the programme.