Five Crore People Have Been Cheated

People problems being ignored
Nandyala: YSRCP' in-charge of Nandyala constituency, Malikireddy Rajagopal Reddy commented that Chandrababu was ignoring the welfare of people and he would soon pay for it. He conducted Gadapagadapaku YSR Congress at the 26th ward of Saibaba Nagar and distributed copies of Praja Ballot. Speaking on this occasion, he slammed Chandrababu for going behind special package instead of bringing pressure on the centre. Remarking that not one of the poll promises had been realised, he explained Chandrababu's deception to people.
People of AP have been cheated
Panyam: Panyam MLA Gowru Charitha Reddy comemnted that Chandrababu had deceived five crore people of AP by bluffing that special package was better than special category status. Holding Gadapagadapaku YSR Congress programme at Sai Nagar of the 30th ward along with YSRCP's legal cell state general secretary and advocate Karnati Pullareddy, she spoke criticised Chandrababu for being an expert in deceiving people. She slammed him for supporting bifurcation of AP and not supporting samaikya movement. She toured along with activists and leaders of YSRCP and learnt about local people's problems. Residents of the colony particularly took to her notice the problem of bad state of roads.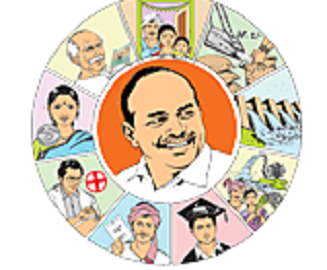 TDP has lost people's affection
Kurnool: YSRCP's district president Gowru Venkat Reddy stated that TDP had lost the affection and trust of people. Along with coordinator of Kurnool constituency, Hafeez Khan, he held Gadapagadapaku YSR Congress programme at Khadakapu veedhi of the 11th ward. He distributed copies of Praja Ballot and questioned people how many of the poll promises made by Chandrababu had been kept. Speaking on this occasion, he complained that Chandrabau had destroyed the state out of fear for Cash for Vote case. Farzana, a physically-challenged woman exclaimed that pension was not being issued to her in spite of having ration card and Aadhar card. Sk.Shah Jahan and Ramakka revealed to Hafeez Khan that their widow pension and senior citizen pension were not being sanctioned.