CM Sucking Life Out Of The Poor

Where is the solution to out thirst?
Kaikaluru: People from Kanukollu village revealed their problems to YSRCP district president Kolusu Parthasarathy and constituency coordinator Doolam Nageswara Rao (DNR), as they reached their doorstep as part of Gadapagadapaku YSR Congress programme. They reported about the devastated state of their roads and how they worsened at times of rainfall. Then the leaders collected the score offered by the people to Chandrababu's rule through the satisfaction survey Praja Ballot. They spoke on this occasion and commented that Chandrababu's downfall was soon to happen.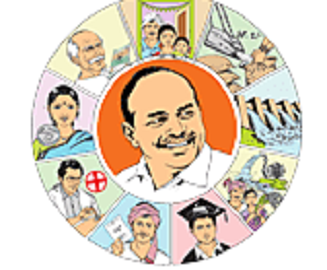 Chandrababu's attack on the poor
Narasannapeta (Polaki): YSRCP BC cell's state president Dharmana Krishna Das commented that CM Chandrababu had apparently announced war against the poor and the downtrodden classes of the state. As part of Gadapagadapaku YSR Congress programme, he toured in Belamara, Palavalasa, Chinnakoduru and Killibucchannapeta villages of the mandal and learnt about people's difficulties. Later, speaking on this occasion, he slammed Chandrababu and called him a CM who sucked blood out of the poor. He criticised Babu for making impossible promises at the time of elections and forgetting all about them later.