Chandrababu Played Mischief With Us

Krishna: The villagers of Chillakallu of Jaggaiapet mandal in Krishna district are up in the arms against the Chandrababu Naidu's rule. They alleged that Chandrababu has totally ignored the welfare schemes and they have not been receiving the welfare schemes. The women of Chillakallu said they had voted for Chandrababu believing that he will prove his word to implement loan waiver. Chandrababu has cheated them in the name of loan waiver, the women lamented. YSRCP's general secretary Samineni Udaya Bhanu conducted door-to-door campaign at Chillakallu on Monday. Several elderly women told the YSRCP leader that they are not getting pensions and the government is not sactioning them even after repeated requests. Samineni called the people to teach a fitting lesson to Chandrababu.
TDP is an anti-Dalit government
"No water to drink and no proper houses to stay. No pensions and ration cards. The TDP government is showing descrimination towards us as we belong to the ST," the people of Korukallu lamented. Kiakaluru constituency coordinator Dulam Nageswara Rao conducted door-to-door campaign at ST colony in Mudinepalli mandal. " The TDP is an anti-Dalith government. It is betraying them by diverting the funds of SC, ST sub-plan to other programmes. The government has utterly failed in implementing the welfare schemes in the state," he said.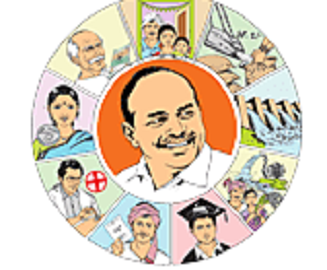 Chandrababu's two-year rule is a flop show
The people of Ananthavaram in East Godavari said that the TDP government had not sanction even a single house though it completed two years in the power. Moreover, the government is not even sanctioning the bills for the houses built during the previous regime, they alleged. YSRCP's co-ordinator Pithani Bala Krishna conducted door-to-door campaign at Mattaparthivaripalem, Gubbalavaripalem, Mimmirthivaripeta of Mummadivaram mandal today. When he asked the people to give marks on the Chandrababu's rule, they said nothing had been done for the upliftment of poor and downtrodden and called his rule a flop show.