Brutal Rule Going On In The State

Special package for commissions
Kolimigundla: YSRCP's in-charge of Banaganapalli constituency and former MLA, Katasani Ramireddy, held Gadapagadapaku YSR Congress programme at Kolimigundla village and explained about Chandrababu's deceptive promises to the people. He stated that YSRCP president YS Jagan should become the CM for the welfare schemes to reach people.
Brutal rule going on in the state
Narsipatnam: At every doorstep, people were complaining about being deceived by Chandrababu's promises and were owing not to vote for him again, stated constituency coordinator Umasankar Ganesh. As part of Gadapagadapaku YSR Congress programme, he toured in Lingannadorapalem village of Golugonda mandal and learnt about people's problems. Speaking on this occasion, he complained about the atrocious rule going on in the state.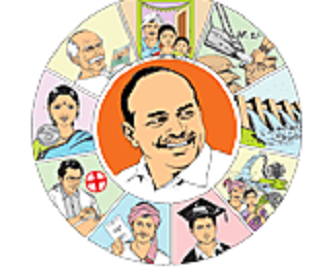 Fight till the promises are realised
P.Gannavaram: YSRCP would continue to fight until all the promises made by TDP Government were realised, along with the promise of getting special category status for the state, stated coordinator of YSRCP for P.Gannavaram constituency, Kondeti Chittibabu. As part of Gadapagadapaku YSR Congress programme, he toured in Pasarlapudilanka. He went from house to house reminding the promises made by the Government to the people. Then he asked the people to score Babu's rule through Praja Ballot survey. People expressed severe discontent towards Babu's rule on this occasion.