Babu's Trickery Cannot Go On Further

Zero marks for Babu's rule
Kurnool: Constituency coordinator Dr.Ramalinga Reddy stated that people had been giving Chandrababu 0 marks out of 100 in Praja Ballot Gadapagadapaku YSR Congress programme was held in Peddavangali village of Chagalamarri mandal. People are at digust withj Babu for his failure to keep his manifesto promises. Many classes of people like farmers, DRCWA women and the unemployed slammed Chandrababu's deception towards them.
Deception with false promises
Krishnagiri: People condemned Chandrababu for making impossible promises and deceiving people without being able to keep them. YSRCP's in-charge of Patthikonda constituency, Narayana Reddy, toured in Pulicharla and Katarukonda villages of Krishnagiri mandal. He collected opinions of people about Chandrababu's administration. People revealed to him the Government's faults in implementing schemes like pensions, NTR houses, billing of Indiramma housing scheme, sanitation in villages and drinking water problems. Speaking to the media on this occasion, Narayana Reddy complained that the ruling party had been hindering YS Jagan  from raising his voice about these faults.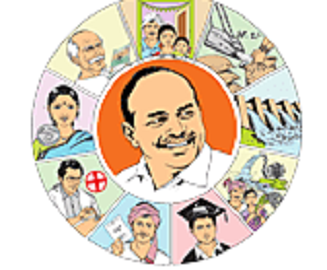 Chandrababu's corrupt rule
Devamada: YSRCP's in-charge of Kodumuru and former MLA Murali Krishna stated that people had understood Chandrababu's deception and hence his anti-people ways would no more work. He conducted Gadapagadapaku YSR Congress programme in Devamada village of Kurnool. He commented that the two-year rule of Chandrababu could reflect nothing but Note for Vote controversy and forgetting the promises he had made. He complained that Chandrababu aimed only at harassing YSRCP leaders.