Babu's Rule Is Based On Deception

Gadaagadapaku YSR
Congress programme is successfully going on throughout the state. YSRCP cadre
is being received with warmth at every doorstep. People are raged towards the
deception of TDP Government with respect to the promises it made at the time of
elections. They are revealing their problems to the YSRCP cadre. The leaders
are assuring them of the pleasant days to come once YS Jagan becomes the CM.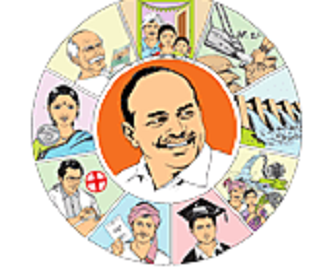 As part of
Gadapagadapaku YSR Congress programme, senior leader of YSRCP and party
president of Krishna district, Parthasarathy toured in Neppalli village of
Kankipadu mandal. He went to evry house and learnt the people's problems.
Parthasarathy called for people to join hands to get YSR's golden rule back
through making YS Jagan the CM of the state in order to get rid of their
problems.
Coordinator of Visakhapatnam
North constituency Thainala Vijay Kumar toured in the 14th ward.
West constituency convener Vijay Prasad, president of 47th ward PV
Suresh and other leaders visited every house in Himachal Nagar and explained to
the people about Chandrababu's corrupt, deceptive and atrocious rule. They
collected answers for the 100-point questionnaire 'Praja Ballot', for which Babu
could score only zero.