Babu's Administration Runs On Corruption

Gadapagadapaku YSR Congress programme is going on successfully throughout the state. Budda Seshareddy, the in-charge of Srisailam constituency of Kurnool district, held the programme in Korukonda. 
Ch. Narayana Reddy, in-charge of Patthikonda constituency, participated in the program held at Veldurthi. Nandikotkuru MLA Aijayya conducted it at M.Ganapuram and N.Ganapuram. Ramalinga Reddy, in-charge of Allagadda constituency, held Gadapagadapaku YSR Congress programme at Perayapalli village.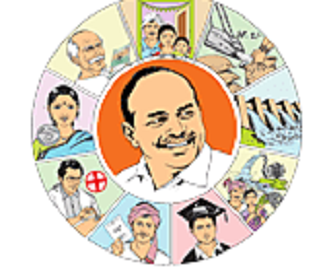 Panyam MLA Gowru Charitha Reddy toured in the 36th ward. Along with district party president Gowru Venkat Reddy, she performed bhoomi puja for KC canal being built with Rs.40 lakh budget. Gadapagadapaku YSR Congress was held by Pattabhi Ramaiah Chowdary at Nallaru village in Kapileswaram mandal in Mandapet constituency of East Godavari district. YSRCP leaders slammed TDP's deceptive ways at every doorstep.