Babu Loses The Praja Ballot

People's fury towards TDP rule
Kurnool (Nandyala): Gadapagadapaku YSR Congress programme, taken up prestigiously by YSRCP, is going on successfully. Nandyala in-charge, Rajagopal Reddy, toured in the 32nd ward of the city as part of the programme. He criticised Chandrababu on this occasion for not realising at least one of the hundreds of promises he had made at the time of elections. As people were asked to score Chandrababu's rule through Praja Ballot survey, people expressed fury towards him and failed him.
We will teach a lesson to Babu
Visakhapatnam (Yalamanchili): YSRCP's convener of Yalamanchili constituency, Pragada Nageswara Rao, toured in Petabayyavaram village, holding Gadapagadapaku YSR Congress programme. Exposing Babu's deception at every doorstep, he went to every household. The villagers owed not to vote for Chandrababu again, thus teaching him a lesson.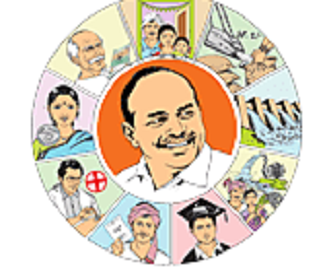 Ignorance to people's problems
Kurnool: In-charge of Srisailam constituency, Budda Seshareddy, held Gadapagadapaku YSR Congress programme at Ernapadu of Bandi Atmakuru mandal. Same agony was seen at every doorstep. Not being able to enjoy any welfare schemes, good quality houses, lack of jobs and stipend and loans not being waived as promised. After listening to people's suffering, leaders holding the programme slammed the Government' deception. They called for bidding goodbye to Babu's rule. Leaders and activists of YSRCP participated in the programme.