Babu - The Land Snatching Man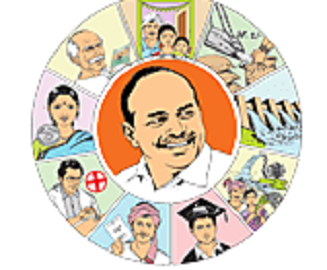 CM forgot all about the
promises he made
People will definitely
teach him a lesson
Nellore: Chandrababu, who had promised at the time of
elections about sanctioning good quality houses to every poor man, had
forgotten all about it after coming to power, criticised Nellore MLA P.Anil
Kumar Yadav. As part of Gadapagadapaku YSR Congress programme, he visited
people in Rajagari Veedhi, Ravichettu centre, Chamandi vari thota, Besthapalem
and Rottela Veedhi of Nellore. He complained that TDP leaders had been robbing
costly lands bit after bit in all districts while the poor went around
Tehsildars' offices and collectors' offices for the promised houses.
He also remarked that
Chandrababu had been enjoying luxuries abroad after deceiving the farmers of
the state in the name of capital city. He opined it was not moral to snatch
lands in the name of party offices. Participating in this event were YSRCP youth
wing's district president P.Roop Kumar Yadav, deputy mayor Mukkala Dwarakanath,
corporators Gogula Nagaraju, Md.Khaleel Ahmed, Obili Ravichandra, Utukuru
Madhavaiah and certain activists of the party.