Babu Cursed By People

Traditional welcome to Gadapagadapaku YSR Congress
Srisailam: Gadapagadapaku YSR Congress, the programme initiated by YSRCP is receiving warm welcome from people. In-charge of Srisailam constituency, Budda Seshareddy, toured in Lingapuram of Bandi Atmakuru mandal and explained to the people about Chandrababu's deceptive rule. As he asked people to respond to the 100-point questionnaire, Praja Ballot, people slammed Chandrababu's administration.
The Government's indifference to problems
Kalluru (Panyam): Chandrababu's Government was negligent towards the problems of the people, mentioned MLA Gowru Charitha Reddy. As part of Gadapagadapaku YSR Congress programme, she toured in the 32nd ward and inquired about people's difficulties. Speaking on this occasion, she slammed the one-sided decisions being taken by the Janmabhoomi committees, resulting in the welfare schemes' inability to reach the deserving people.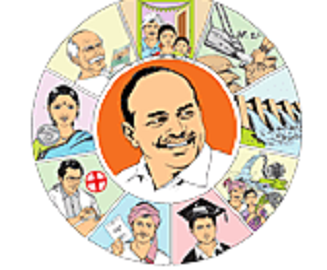 All promises are fake
Tuggali (Patthikonda): The farmers, the poor, the unemployed, the women and the aged complained that none of the welfare schemes were reaching them. Mandal president if Tuggali, Nagesha and Cherukupadu Narayana Reddy toured in the area as part of Gadapagadapaku YSR Congress programme. Speaking on this occasion, Narayana Reddy thanked the leaders and the activists who made the programme a success.