YSRCP Is Always With People

Vijayawada: Asserting
that YSR Congress Party has been with the people all the time and has been
playing the role of the opposition highlighting the failures of the ruling
party, YS Jagan Mohan Reddy has said that the good will prevail over the bad as
always even in films.
Addressing the state
level meeting here on Tuesday he said, Chandrababu Naidu has been at his old
habit of telling lies and in the elections he went on a spree of false promises
and went back on them after being elected.
But you can fool people
only once and if any leader tells lies, or raises false hopes or fails to keep
his promises he should be taught a fitting lesson whoever it is, he said.
It is five years since
our party was formed and we began with two members and raised to 18 and then to
67 MLAs and 9 MPs and the difference of votes between TDP and our Party has
been just five lakhs. While TDP polled 1.35 crore votes we secured 1.30 crores
and that made the difference.
People believed his
false promises and are now repenting. If any leader resorts to such false
promises he should be shown slippers and even I should not be spared, he said.
Chandrababu Naidu has
been resorting to large scale corruption and has been buying opposition
legislators by huge amounts and by luring them with contracts and other such
sops which is unethical and undemocratic.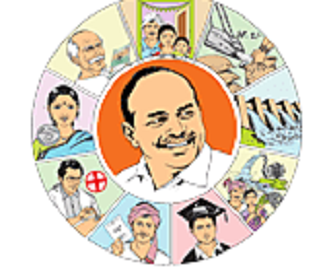 He has deceived farmers,
DWCRA women groups, students and youth and money power cannot win votes all the
time. He has spent more money in 2004 elections as well but could not win
enough seats to form the government.
Mudragada Padmnabham's
deeksha was foiled by Chandrababu Naidu and the manner in which he has dealt
the issue is heinous as he went on fast demanding on what TDP has promised
during elections.
'Chandrababu Naidu
cannot run the state at this whims and fancies and he has been misusing police
force for political gains,' he said. Let us all join hands to change the
vicious atmosphere created by TDP and establish a society which has credibility
and accountability, he said. One need not be a celebrity to become Chief
Minister or a leader, he or she should be within the reach of the people and be
available all the time, he said.
In the coming five
months go to every village and be in touch with the people in every village and
take up their issue which is the true identity of Gadapagadapaku YSR, he said.