YSR vardhanthi in North East USA

Dr. YS Rajasekhara Reddy Foundation has organized a few events in New Jersey and Philadelphia on September 12-13, 2015 to commemorate Dr. YSR's 6th Vardhanthi. Over 900 YSR followers from all across the USA have attended these events, including famous personalities Rayachoti MLA Gadikota Srikanth Reddy, Kakinada In-charge Sunil Chalamalasetty garu, Chittoor Ex-MP Gnanendra Reddy and a few others.
The activities started with a noble blood donation camp in the morning of Saturday in Philadelphia under the leadership and direction of Dr. Raghava Reddy Ghosala, Rajeshwar Reddy, Ramesh Appareddy and Alla Rami Reddy, with the help of several volunteers. Over 130 YSR followers gave blood to Red Cross on the occasion of YSR Vardhanthi and in memory of 9/11 victims. There were over 400 people in the camp, including volunteers and supporters to pay tribute to YSR. Special thanks to Secretary Hari Velkur, Treasurer Shiva Meka, Jt. Treasurer Srikanth Gudipati, BODs Anna Reddy, Sarath Mandapati, Nagesh Mukkamalla, Srikanth Penumada, Chinna Babu Reddy for helping these events and making it a grand success.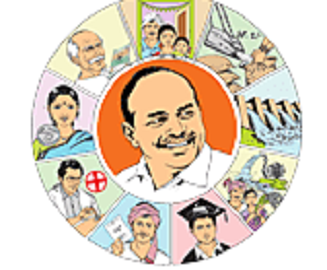 The evening Banquet program was held at Crown of India, Plainsboro, New Jersey was jam packed with over 500 followers in attendance. Foundation President Alla Rami Reddy explained that core mission of Dr. YS Rajasekhara Reddy Foundation is to continue the legacy of Dr. YSR. Dr. Raghava Reddy Ghosala and Rajeshwar Reddy and Ramesh Appareddy explained the goals of the foundation and explained how Dr. YSR legacy will be taken forward by the Foundation.
Rayachoti MLA Gadikota Srikanth Reddy, in his speech said that YSR has encouraged and guided him to join politics. YSR was dearly missed by crores of people from Andhra Pradesh. Srikanth Reddy was eloquent in explaining how Dr. YSR worked for poor, needy, farmers, students, and senior citizens. During YSR regime every sector has shown growth and IT sector growth was unimaginable. YSR's dream program Jalayagnam has helped villages of each and every districts of combined Andhra Pradesh state. Farmers were very happy during his regime. Srikanth Reddy praised Dr. YSR Foundation for doing such great work to community and he is very happy to witness the affection of NRIs towards YSR.
Sunil Chalamalasetty, in his speech said that Dr. YSR has a great heart and always thought of helping poor people. YSR has helped each and every section of people through his popular programs like Pavalaa Vaddi, Free housing scheme and became a role model for generations of the leaders to come. Everyone was happy during his period and it is a great loss for combined Andhra Pradesh. Sunil has requested every NRI to help fulfilling the dreams of YSR and do charitable work in India. Sunil said Dr. YSR Foundation help to the community is commendable and blood donation camp with 130 donors is a humongous task.
Chittoor Ex-MP Gnanendra Reddy and several speakers spoke emotionally and eloquently to touch the audience. Most of the speakers shared their personal experiences with Dr. YSR and praised his courage, commitment, discipline, and determination.
Rami Reddy Alla, Rajeshwar Reddy Gangasani, Dr. Raghava Reddy and Ramesh Appareddy explained Dr. YS Rajasekhara Reddy Foundation activities in detail and that the Foundation will be focusing on the following programs:
Sponsor an orphan
Sponsor a physically and mentally challenged child
Sponsor a neglected Senior Citizen
Scholarships to poor meritorious students
Water purification plants
Health Camps