YS Jagan demands CBI probe into Tuni arson

Hyderabad, June 10: Demanding a CBI inquiry into the Tuni arson incident, Leader of Opposition, YS Jagan Mohan Reddy has asked the civil society to condemn the arrest of Kapu leader Mudragada Padmanabham and gagging the media that is not in favour of the ruling party.

'Chandrababu Naidu has been behaving like a dictator and has been misusing police force by arresting Mudragada Padmanabham, who is on a fast with his just demand which was promised by the Chief Minister during his electioneering and by blacking out the channels that are not in favour of TDP. We have to condemn such an attitude and fight for justice as Chandrababu Naidu is setting a bad precedence,' he told media here on Friday.
The Tuni arson incident should be probed by a third party CBI as people lost faith in Chandrababu Naidu under whose leadership the probe cannot be free and fair. The civil society should condemn the arrest of Padmanabham who is on a hunger strike seeking reservation to kapus, which was one of the election promises of Chandrababu Naidu.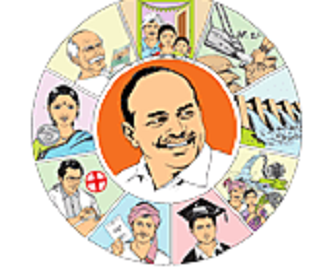 'It has become a habit for Chandrababu Naidu to convert a social issue into a political controversy and then make it a law and order problem to use brute force. Such act should be condemned and fought tooth and nail. TDP MLAs were on record saying that Chandrababu Naidu on earlier occasions had instigated arson and violence to gain political mileage.
With law and order in his hands, the probe into Tuni arson case cannot be free or fair and a third party like CBI should investigate the issue,' he said.
Chandrababu Naidu has been resorting curtailing the freedom of speech and press by blocking television channels, including Sakshi, for objective reporting. This is a bad precedent, he said adding that the Kapu reservation is a social issue and people belonging to that section have the right to express solidarity to the movement.
Chandrababu Naidu is known to create a wedge between castes and among the same caste as well as he instigated the categorisation and created bad blood among weaker sections and now is trying the same thing to divide people of a social group for his political advantage.
Mudragada Padmanabham's demand is just as Chandrababu Naidu has included in the manifesto that reservations would be provided to kapus after he comes to power. When the promise was not fulfilled, the kapu leader went on fast and he was undemocratically arrested by pressing a large posse of police in the tiny village.
Media that was active in covering the incident was barred and blocked. In Tamil Nadu, the two arch rivals have their respective news channels but they were never resorted to blocking channels.
We demand that Mudragada should be released immediately, the news channels' broadcast should be allowed immediately and the Tuni arson case should be handed over to the CBI for impartial inquiry, he said adding that if Chandrababu Naidu continues with his dictatorial attitude a day will come when people will revolt.
Leaders are ought to have credibility and in case of Chandrababu Naidu it is totally lacking.