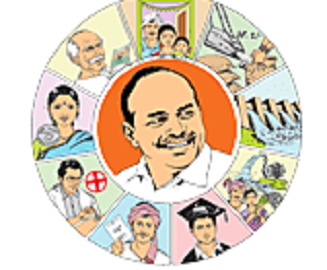 Join hands with me for all-round progress of AP
Dear Brothers and Sisters,
The NRI community wing of the YSRCP is for those Telugu brothers and sisters who are seriously concerned about their mother land and the social, economic and political goings-on in Andhra Pradesh.
As the Telugus across the world are always responsive to the happenings in AP and share the joys and sorrows of the Telugu people in equal measure, the YSRCP has decided to form the NRI Community wing for its active participation in the party activities.USA, UK&Europe, Singapore, Gulf, Malaysia, Australia NRI Wings are formed under this umbrella. Our party services are extended with these Wings.
As you know very well, the YSRCP took birth to fulfill the aspirations of the Telugu people and to finish the task left incomplete due to the sudden and tragic demise of YSR. I therefore call upon you to become active partners in the programs of the YSRCP which is purely dedicated to the all round welfare of our people.
You are aware that the late YSR strove as much hard to strengthen the spirit and togetherness of the Telugu people abroad as he did for the emancipation of the Telugus on their native land. I was, no doubt, in my elements when I had received tremendous response and encouragement from you following the formation of the YSRCP.
You showed your unfettered love and affection towards my late father by celebrating his Jayanthi and observing his Vardhanthi regularly in your countries and sending unequivocal signals that YSR is still alive in your hearts.
The YSRCP's sole aim is to bring the golden era back to the people who tasted it during the YSR regime. I urge upon you to join me along with millions of Telugus in AP in carrying forward my spirited fight to fulfill the task left midway by the late visionary leader and realize his dreams lock, stock and barrel.
The Telugu people abroad including those in the Gulf apart from the US and UK have stood like a rock behind me and have been overwhelmingly expressing their solidarity with me in my undeterred fight. My spirits have really multiplied when I learnt that the Telugus abroad have pledged to repay their debt to their mother land by dedicating themselves to the ideals of the late YSR.
The time is ripe for you now to join hands with me and come forward to partake in the great mission undertaken by me.
Follow the YSRCP which will take up several specially designed programs in your respective countries in tune with the great vision of the Telugu Bidda YSR who left indelible footprints on your minds. There could be no better paying of tributes to the late leader than your participation in such programs.
Let us join hands and move together on the path shown by YSR to rebuild the golden era!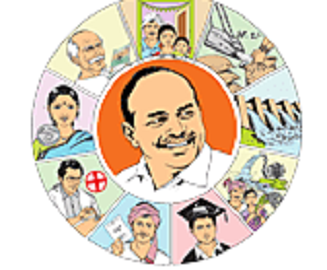 Y.S. Jagan Mohan Reddy