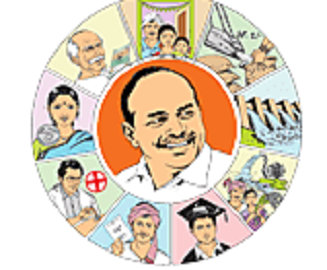 Dr.Yedugiri Sandinti Rajasekhara Reddy, popularly known as YSR, is an embodiment of a magnifying stature, never-fading smile, resolute will power and the look of a native Telugu Bidda (Telugu son).
Chief Ministers had come and gone in the State and across the country but the one charismatic leader who rode like a colossus on the political canvas is Dr YS Rajasekhara Reddy. He went closer to the people by his Padayatra to have a firsthand account of their plight. Solutions were promised to the people's problems as part of his Padayatra and the same were fulfilled by him after coming to power in 2004 elections.
The towering personality, with his native outfit, appeared as a savior to the farmers, workers and other sections of the people who were hitherto subjected to utter neglect. He became a darling of the masses when he rolled out a string of welfare measures for farmers, students, weavers, women and Dalits besides bringing in Aarogyasri, old age pension, housing and other most sought after schemes to cater to the needs of all sections of people.
Smiles widened as the rural landscape prospered with water gushing out though Jalayagnam, governance getting the pulse through Aarogyasri, and education started reading between the lines through fee reimbursement. YSR's image has obviously outgrown the imagination of many, be it political, corporate or social giants.
Tragedy struck in September 2009 and the deluge changed the course of the State's development. When things become difficult, the timid choose the easy way out and the brave take the bull by its horns.
Mr.YS. Jagan Mohan Reddy, the heir apparent, has stepped into the YSR shoes to carry on the legacy.