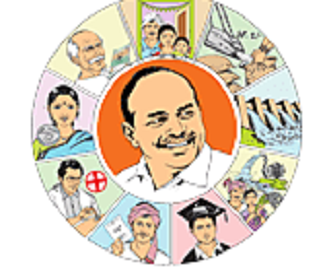 Firmly believing that "It's not how long you live…but how you live that matters," Y.S. Jagan Mohan Reddy had launched Odarpu Yatra to redeem the solemn pledge taken at NallaKaluva in the aftermath of the sad demise of his father and beloved chief minister of Andhra Pradesh Dr. Y.S. Rajasekhara Reddy.
Letting his moral fortitude guide him all the way, he moved on to ensure that the slew of welfare measures put in place by his late father continued to reach the poor.
Eschewing a life of leisure and luxury, Jagan Mohan Reddy had decided to reach out to the people, to feel their pain and to provide them succor. Searing hot summer, nippy winter or even the lashing rains did not deter him from meeting people through his Odarpu Yatra.
Early on, Jagan had realized that the Congress biggies and the powers that be were playing foul and were trying to erase his late father's pro-poor and pro-development legacy. The irony couldn't have been starker as his father had, for well over four decades, served the Congress with utmost faith and unflinching devotion. Unfettered by these machinations, Jagan drew strength from the people and continued to move on.
Realizing that the powerful people at the Centre were determined to undermine the struggles of the common man, the young leader had decided to take cudgels on their behalf. By mingling with the people who languished at the bottom of the prosperity pyramid, Jagan had built unbreakable bonds with them. The Odarpu Yatra is an exercise aimed at understanding the real needs of the people and finding ways to address them when the YSRCP romps home to power.
The youthful leader chose to work a diligent path towards that goal without losing focus on the plight of the hapless poor and the under-privileged.
Know the path that could also be yours one day.