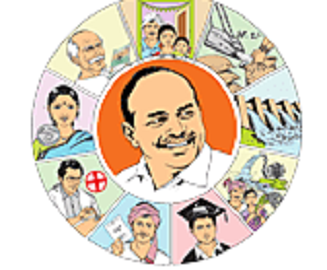 The sudden and tragic death of Dr Y.S. Rajasekhara Reddy has brought development in the state to a grinding halt. The slew of welfare schemes he had put in place began to be gradually but inexorably watered down.

Flagship pro-poor schemes like the most acclaimed Arogya Sri meant for providing quality healthcare to the poorest of the poor, ambitious fee reimbursement scheme that helped students from modest backgrounds access higher education and the Pavala Vaddi scheme (25 paisa interest) that provided loans at low interests to women self-help groups began to weather out.

Also, Jalayagnam, a comprehensive scheme to improve the irrigation command area in the state, lost its course what with the sad demise of the great visionary that Dr Y.S.R was. As a result, the farmers' plight knew no bounds. The minimum support price (MSP) wasn't forthcoming, nor was there the much-needed farm loan support or the subsidy prop.

Despondency in the air!

Amid this all-pervading gloom, came YS Jagan Mohan Reddy and his YSR Congress Party. It was like the proverbial "cometh the moment, cometh the man". Under his leadership, the YSR Congress had taken upon itself the task of rebuilding the lost confidence among the people and to rekindle the hope in them.

Jagan had vowed to bring back the golden era of Dr. YSR and undertook a tour of the state to instill confidence among the people. To the despairing hearts, he provided succor. To those who felt down and out, he breathed confidence. To the marginalized, he offered hope. To the farmer, he held out the hope that the visionary Jalayagnam would be completed after all. To the students from the BC communities, he breathed the hope that the reimbursement scheme would be continued. To those wilting under the weight of afflictions, he instilled the confidence that the siren of the 108 and 104 services would not fall silent and that the life-giving Arogya Sri would continue to stand by them at times of medical needs.
Jagan's historic speech at the maiden plenary of the party is a manifesto of hope, confidence, succor and relief to the poor and the destitute, to the youth and the old alike, to women, men and children. The speech reflects his promise to usher in a new era.

For all the doubting Thomases, the six-year rule of